I'll sprinkle these tips in from time to time to help you get the best deals on fabulous vintage and antique pieces. Here are some helpful hints on bargaining--->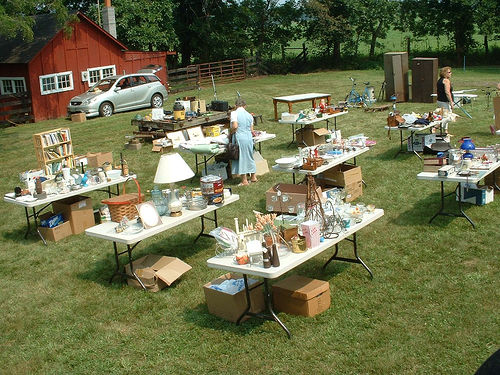 Tag sales/ garage sales, yard sales

- It is perfectly acceptable to ask for a better price on an item you like. If there are several things you're interested in pull them into a group or lot and ask the seller if they'll do x for all of it. If it's just one item ask the seller if they would be willing to take x. It's best to always have an amount in mind to offer- don't just say "can you come down on the price?". If there are no prices tags on the items (this happens frequently and it's a pet peeve of mine) don't ask for the price. Make a decision on what the item is worth to you and make that offer. Usually people selling at tag sales just want to declutter and are willing to take just about anything to be rid of the items.
Antique stores

- Because these are stationary and static, antiques dealers are never as willing to come down on their prices. Be prepared to pay on average 30-50% more than at a tag sale. This being said, there is better stuff at antique stores and so shopping is not as labor intensive for you, the buyer. Regardless of setting, always ask the seller if they will take less. It can't hurt. If it is a group antique store/antique mall (multiple seller stalls in one location) sometimes at the bottom of the price tags you will find an "x" and then a number. This is the secret code the sellers use to tell the person at the front sales desk how much they are willing to come down from the stated price.
Flea markets

- In my opinion, possibly the finest place to get a great antique at a great price. Haggling is an assumed part of the purchase process to the extent that many sellers mark their items up to give wiggle room to haggle. Items are frequently not priced here. As with tag sales, don't ask the cost, just make an offer. I'm not ashamed to admit flirting helps to get a better price. If the seller will not come down on their price, not even a bit, I recommend not buying from them. The person is obviously a nitwit that doesn't understand the rules of the flea market world and doesn't deserve your business...unless you really love item, because there is always an exception for that!